Youth in Mind TALKS: Voices for Hope
Shining a light on the incredible resilience shown by young people and the professionals who support them, our latest virtual conference Voices for Hope promises to reinvigorate your practice. And in a year when COVID-19 continues to challenge our ways of working, NHS, local authority and voluntary sector speakers will be identifying challenges that the virus throws at us all and how to overcome them. You won't want to miss this unique opportunity to learn, connect and be inspired.
"This is an amazing conference, so upbeat and positive!"
The Youth in Mind conference was born of Oxfordshire Youth and Oxfordshire Mind's shared vision of better mental health for the county's children, young people and families. Our partnership continues to raise awareness of the services available and develop cross-sector opportunities for anyone working with children, young people and families. Everyone is welcome, be they a part-time volunteer, school head teacher, NHS staff member or social worker.
"A great event, bringing so many diverse organisations together."
Youth Voice
Monday 8th November
Dedicated to Oxfordshire's youth perspective, Youth Voices is a fascinating journey around inspiring projects with young people at their heart, including One-Eighty, SOFEA, and Didcot Girls School. Mina Fazel, Associate Professor in Child and Adolescent Psychiatry, presents on the 2021 OxWell survey involving 30,000 young people across England.
Leading Voices
Wednesday 10th November
This day will show just what wonders can be achieved when a community comes together to manage a crisis. It's a fantastic opportunity to hear leading voices from the local authority, voluntary sector and NHS and engage with commissioners in an interactive talk allowing you to have your experience heard and understood.
Diverse Voices
Friday 12th November
An exclusive screening of thought-provoking documentary The Blueprint Scrapbook, filmed during the COVID-19 pandemic and following a group of young people exploring issues of race and identity as part of a music project. Someone from the film will then join a group of young people and the professionals they work with to host a debate around themes of diversity, inclusion, and hope.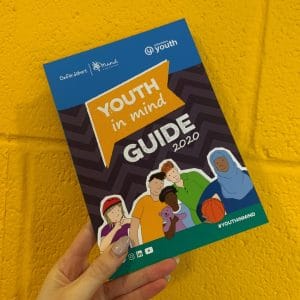 Youth in Mind Guide
Youth in Mind Guide to children's mental health services in Oxfordshire
"Superb! It hugely benefits professionals and practitioners."
The Youth in Mind Guide to children's mental health services in Oxfordshire is a comprehensive directory of local and national organisations supporting children and young people's mental health and well being.