The news about what is happening in Ukraine right now is upsetting and can feel overwhelming.
Even if you are watching the news from afar it is completely normal to feel upset and anxious about what is happening.
We are sharing some simple tips to help if you are feeling overwhelmed right now.
Limit your time watching the news
Understandably there is a high amount of news reports about the conflict but that doesn't mean that you must watch all of it. Try limiting yourself to watching one news broadcast a day. If the news is affecting your sleep, then try not to watch the late-night news and have some time away from all screens for at least an hour before bed.
Check your sources
While social media is playing an important part in helping share the stories of those that are affected by the conflict there are also a lot of false information about what is happening. These can cause further distress and confusion. Before sharing a post check your sources; try googling to see whether other news reports support the information being shared and consider what benefit it would have to share posts that you are seeing.
Self-care
Feeling anxious about a distressing or worrying situation is understandable, but this doesn't always mean you have a mental health problem. You might find it helpful to try some self-care tips to help cope with how you're feeling. For example, you could try breathing exercises, writing down your feelings or distraction techniques such as doing something you enjoy or a physical activity such as taking a walk.
Talk about it
Talk about how you are feeling to trusted friends and family. It can be helpful to say our worries aloud and we often find our feelings are shared by others. Try asking someone if they have time for a chat. But remember that everyone deals with things differently and it's important to respect other people's boundaries if they say no. If you aren't able to open up to someone close to you, you can call our Information Line on 01865 247788 or email info@oxfordshiremind.org.uk.
Peer Support Group
Oxfordshire Mind now runs a Peer Support Group for those affected by the situation in Ukraine. All are welcome and it is free to attend.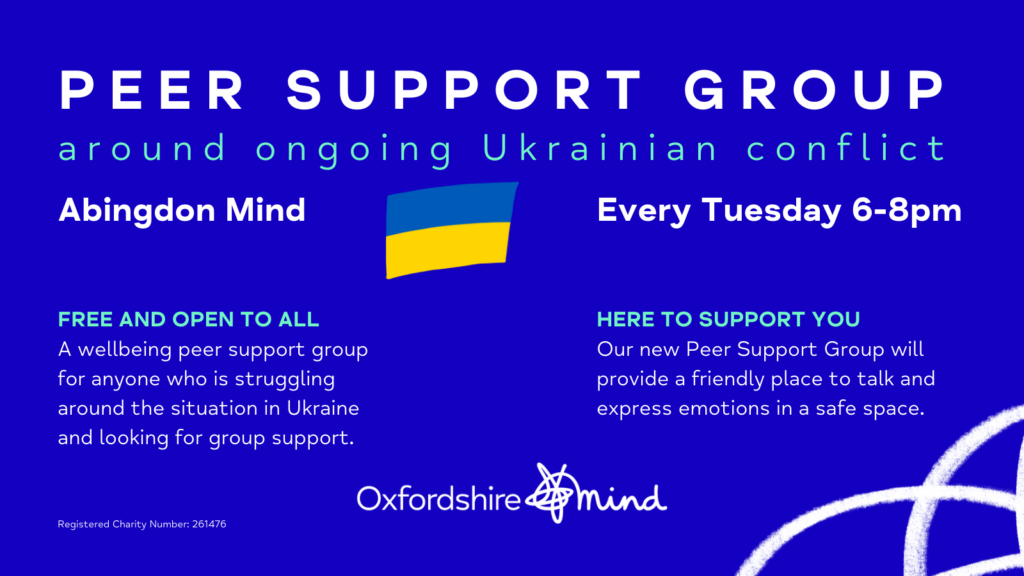 For more info, please call or email:
T: 01235 537424
E: southandvale@oxfordshiremind.org.uk
Abingdon Wellbeing Centre, 1st Floor, The Charter Complex, Broad Street, Abingdon, OX14 3LZ